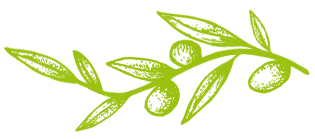 Elaboration process
Olive groves are the lifeblood and beginning of everything we do at MIGASA. The vast array of olive groves that cover our land are where our little gems, the olives, originate. Harvesting and tending to them throughout the growing season is essential to obtain high-quality olives with outstanding organoleptic properties.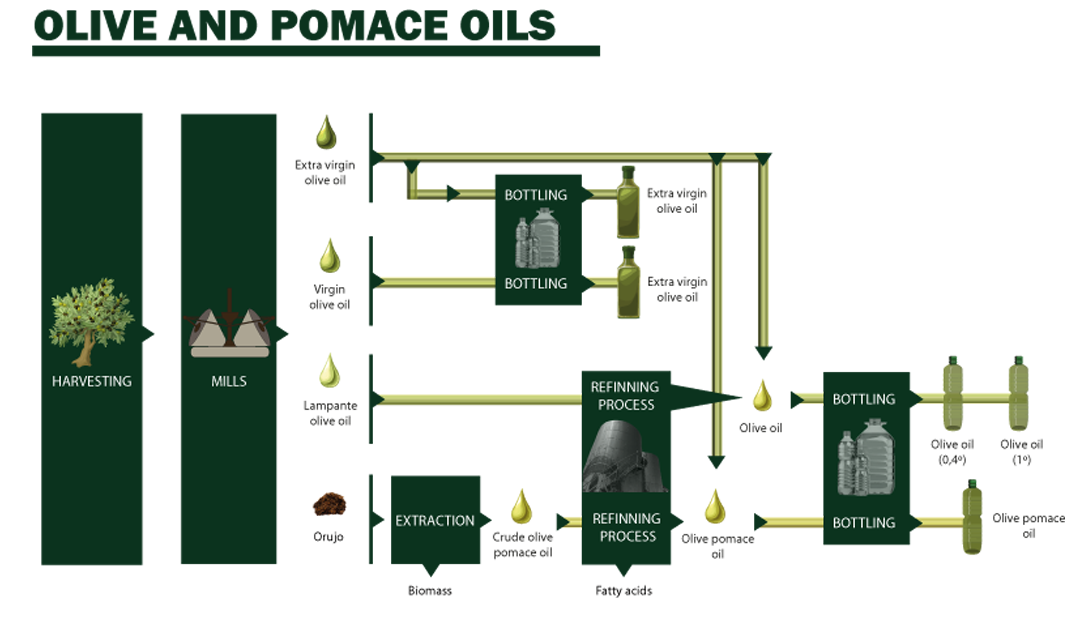 OLIVE AND POMACE OILS
HARVESTING
The olives are harvested between the months of October and December, when the heat is less intense, to avoid damaging the olives. They arrive at the olive oil mill, where they are sorted from other natural elements (leaves, branches or stones) and washed to make the product as pure as possible.
OLIVE OIL MILL: MILLING, MALAXING AND CENTRIFUGATION
Firstly, the whole olive is milled, followed by an initial slow, cold malaxation, which separates the different parts of the olive and gives us the first drops of oil.
The remaining product undergoes a centrifugation process from which, on the one hand, the largest possible amount of oil is obtained and, on the other, the by-product known as orujo, which will be discussed later.
The oil, which is only obtained through mechanical processes, undergoes centrifugation again to ensure that it is fully separated from any small droplets of water that may be found on the olive, thus obtaining 100% olive oil.
The filtration procedure is used to obtain high-quality olives with the longest possible shelf life. This allows us to ensure that any unwanted organic residues are fully eliminated from the olives.
When the process is completed, the olives are analysed and tasted in the olive oil mill to be categorised in one of the following groups:
Extra Virgin Olive Oil (EVOO): its acidity levels are less than 0.8º and it has no organoleptic defects whatsoever. The score awarded by the tasting panel must be zero and median fruitiness must be greater than zero.
Virgin Olive Oil: has higher acidity levels than Extra Virgin and must be 2º or less. In the panel test it must be given a score of 2.5 or above, with median fruitiness greater than zero.
Lampante Olive Oil: with acidity above 2% and multiple defects that make it unsuitable for human consumption.
The first two categories, extra virgin olive oil and virgin olive oil, have exceptional properties and are suitable for consumption straight after they are bottled.
LAMPANTE OLIVE OIL: REFINING PROCESS
Lampante olive oil, which has the same nutritional properties as virgin and extra virgin olive oil, undergoes a refining process to make it suitable for human consumption.
As a result of this refining process, we obtain a somewhat flatter and milder oil, to which we have to add extra virgin olive oil for added flavour, obtaining Mild Olive Oil and Intense Olive Oil with a maximum acidity level of 1.5%, now suitable for human consumption.
ORUJO: PITTING, PELLETISING AND EXTRACTION
The orujo, described above, has any small pieces of stone it contains removed and subsequently used to generate energy in the form of biomass.
The remaining product is stored in tanks for a season, to promote drying. The process continues after the hottest months during which, with the help of the sun, we manage to remove a large amount of the water contained in this product. To extract 100% of the water, an industrial drying process is carried out.
After they have been pitted, they are taken to a drying room and they are pelletised, thus giving us a product in granule form. After pelletisation, the product has to undergo an extraction process, where any remaining oil molecules are removed, giving us the oil that is known as crude olive pomace oil.
REFINING: OLIVE POMACE OIL
As with lampante olive oil, pomace olive oil also undergoes a refining process and virgin or extra virgin olive oil is added to it to enhance its flavour. This gives us olive pomace oil, which is suitable for consumption and ready to be bottled.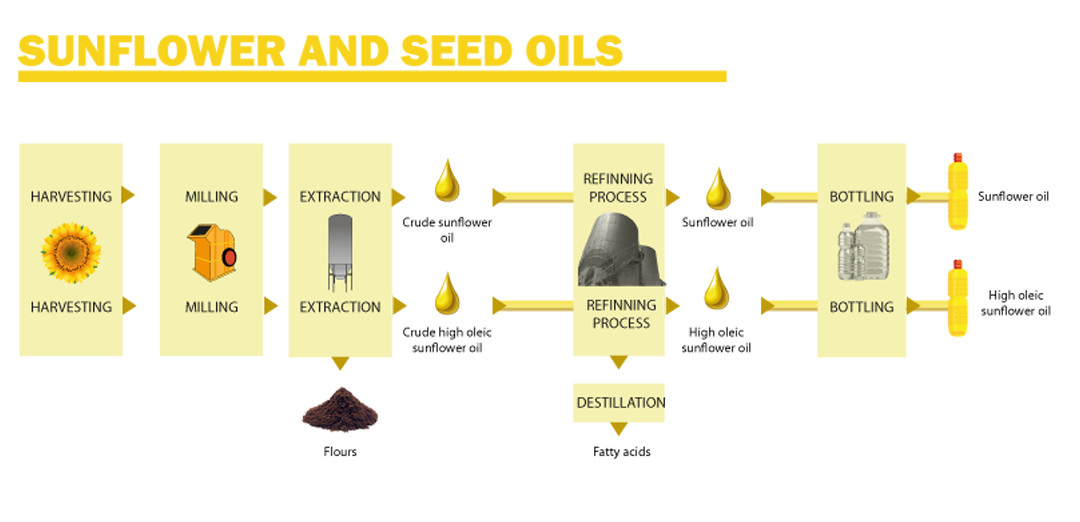 SUNFLOWER AND SEED OIL
HARVESTING
Sunflower, grape seed and rapeseed fields all over Spain are tilled and harvested by a large number of farmers affiliated with Migasa. Their labour provides us with top-quality seeds to produce our oils.
MILLING AND EXTRACTION
These seeds are transferred to the extractor, where they are pressed to extract the maximum amount of oil possible through mechanical processes. To obtain the rest of the oil, the seed undergoes an extraction process. This is the process where almost all of the seed oil is used and depleted, resulting in crude oil. Flour to be used in animal feed is a by-product of this process.
REFINING AND PACKAGING
Finally, the crude oil undergoes a complete refining process from which we obtain refined oil ready for consumption. This oil can be supplied in bulk or packaged in different formats and marketed to the final consumer.